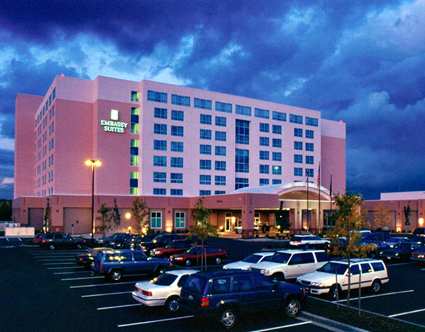 Well, after another round of considerations and deliberations, the Warpstock Board of Directors finally decided upon the Embassy Suites, Portland Airport for the site of this year's OS/2 & eComStation conference, August 17-19.
Full details are available on the Warpstock site, but meanwhile, here are a couple of highlights:
As a consultant, I look at computers and operating systems from a "best tool for the job" perspective. Some systems are better suited to some things than others. I wouldn't expect to play modern computer games, written for Win32 or Win64 on Linux or OS/2, no matter how far advanced Wine or Odin was/were. Likewise, I wouldn't consider running a web server on the Win32 or Win64 platform vs Linux or OS/2.
Along with other suitability considerations, I factor in my own (or the client's own) comfortability factor with a particular environment. The Mac object oriented desktop is quite nice, though it's not my environment of choice. On Linux, I prefer KDE to Gnome, but neither of those nor the Mac desktop nor Windows Explorer approaches the level of comfort, familiarity, or ease-of-use which I experience using the Workplace Shell, which is - for me, at least - the main reason I stick with eCS.
Stability concerns? These affect all platforms at one time or another. Unless the problems are inherent to the overall system design (Windows' weak security model and the dangers of the single registry paradigm), such things need to be considered in the course of business. that is to say, they happen. Cars break down, too, but I'm not quite ready to go back to a horse and cart (and carts break - ever change a wagon wheel?).
A busy pre-event day.
The hotel Wi-Fi (DoubleTree Suites Raleigh-Duram) seems adequate. The service is apparently provided via Wayport, and we have an event promotional code which gets us free access. Authentication is via captive portal, and there appears to be enough signal to saturate most areas of the building without dropouts. We tested a Skype connection with video (yes, in order to run Skype, I had to reboot to Windows...probably the sixth time this year my T43 booted into XP), and all went fairly well.
Lunch in the restaurant was quite good, and the portions were quite generous. Pricing was fair, too.
More arrivals in the afternoon, and of course, the requisite (for me) administrative tasks to perform, as Treasurer of Warpstock Corp. Surely, less hassle than I've had in the past, and all things considered, easily accomplished. I found some time later in the day to retire to the library (yes, the hotel has a quiet reading room) to work on my presentation for Saturday, on WPA & WPA2 connections using XWLAN and the WPA Supplicant (the difference is between the two implementations, the 4-way handshake, RC4 vs CCMP/AES, and what the various debug screens look like from the supplicant). I set up a refurbed Cisco E2000 router and got several good screen shots of various types of behavior.
Dinner was excellent. We had NC BBQ for the buffet fare, and there was more than enough to go around. Some late-comers missed dinner, unfortunately. I was even able to get crowd favorite Steven Levine to say a few words about eCS 2.1, and give a preview of some of his talk slated for Sunday. This, of course, led to a Q&A session which ran longer than our allotted time for the room, yet the staff was courteous and allowed us to continue, never once suggesting that we wrap up and skidaddle.
We had our Board meeting in John Edwards' suite, which was my first opportunity to see the accommodations, which were roomy and comfortable. As I'd already registered the couple walk-ins, we were all heartened that attendance may even be better than expected. A good meeting, indeed.
On my way out, I got snagged to look at a network connection which wasn't cooperating. After advising my friend that he needed to give up on the wired connection and switch to Wi-Fi, I had to debug his somewhat mangled PROTOCOL.INI which was keeping his GenMAC driver from loading and activating his Intel card. More conversation followed, and I finally got out about 1am.
Looking forward to Saturday's sessions.
Just arrived at my buddy's house in Cary, NC this evening. The official kickoff for Warpstock 2011 in Duram is tomorrow evening, but there's still much to do to get ready, so tomorrow morning, we get to check out the quality of a Skype video session on the hotel Wi-Fi.
I'll follow up with a full report on that tomorrow, as well as some thoughts of mine concerning Skype, in general, from a security perspective as well as the concept of convergence.