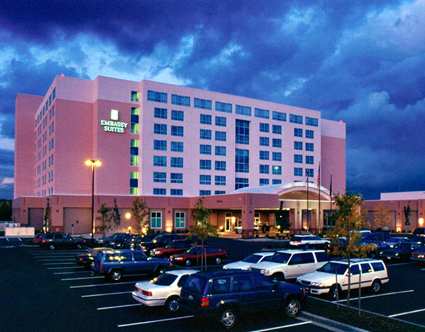 Well, after another round of considerations and deliberations, the Warpstock Board of Directors finally decided upon the Embassy Suites, Portland Airport for the site of this year's OS/2 & eComStation conference, August 17-19.
Full details are available on the Warpstock site, but meanwhile, here are a couple of highlights:
The event has been expanded to include a full day of breakout sessions on Friday. These sessions will be held in the individual instructors' suites, and are intended to be hands-on troubleshooting and learning classes in groups of one to five (or so) people. Friday is therefor an "optional" day, so a "full conference" counts as a two or three day registration.
Each full conference attendee registering before midnight, July 16 will be automatically entered in a drawing to win a $275 rebate against his or her registration fees. Full details on the drawing are available on the Warpstock site.
The official welcome dinner will be held on Friday night.
As this is the Embassy Suites, rooms (suites) are priced per room, and not per person, and include a full breakfast for the registrant. Meals are included with a guest registration.
Additional room nights are available for those wishing to come early or stay late.
While this conference is primarily focused on the needs of eComStation (OS/2) users and developers, there is plenty for everyone, as we usually have sessions pertaining to F/OSS. These days, many of our "regular" applications on OS/2 are ported from Linux, so there is quite a bit of crossover. We welcome non-OS/2 users.
We are still filling in the session schedule for Saturday and Sunday, and we only have a couple people signed on to do breakout sessions on Friday (I will be presenting at least one session over the weekend, on the latest WPA Supplicant, and will be doing troubleshooting sessions on Friday concerning general networking as well as Mozilla apps. Scheduling details for the breakout sessions are still being developed.
The Saturday social event is to be determined. I had hoped for an IMAX, dinner, and tour of the Oregon Museum of Science and Industry, but as they are apparently geared toward much larger groups, we are looking for alternatives.
The NBC TV show, Grimm, is filmed on location in Portland.
I'll try to even keep up with my postings here, and my journal of the event this year (it's always difficult, as I have so much to do).
Embassy Suites Portland Airport
Last Updated on by LewisR
Enjoy this article?